You can reproduce this Average Global Temperature plot.
Note: As your plot might include more recent data, it could be slighty different.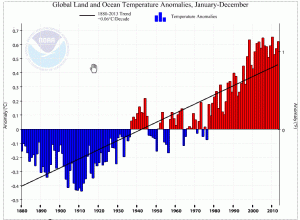 Go to the US National Climate Data Centre site:
www.ncdc.noaa.gov/cag/time-series/global
The "Globe" tab should have a white background
Click to tick the box next to "Display Trend"
Set "Timescale" = Annual
Set "Latitude Band" = Global
Set "Surface" = "Land and Ocean"
Click "Plot"
Ranking the years from coldest to hottest
Under the generated graph there will be a table showing:
the year, for each of the 134 years of data
the "temperature anomaly" and
the ranking of this year, where 1 is the coldest year to 134 which is the hottest year
You can click on table heading "rank" to order the years by rank.
The hottest 10 years are 2010, followed by 2005, 1998, 2013, 2003, 2002, 2006, 2009, 2007, and 2012.
The hottest10 years of the 134 years, are all recent, in the last 16 years.
This data comes from:
The US National Climate Data Centre (NCDC)
www.ncdc.noaa.gov
NCDC is part of
The US National Oceanic & Atmospheric Administration (NOAA)
www.noaa.gov